Much like bespoke tailoring, you can't pick up a tailor-made illustration off the high street shelves with a fixed price tag – it requires some taking of measurements and creative collaboration. How much it costs depends on how much time and attention it takes – for an estimate please get in touch: info@georginahill.com.
…………………………………………………………………………………………………………………………………………….
To help show the teamwork that goes into perfecting your design plus my creative toolset, here's the basic recipe and ingredients for creating your picture /stationery (method may vary according to taste):
1. WE BRAINSTORM: Whether you're thinking of a 'tell-a-lifestory' picture as a gift, baby arrival picture/cards, wedding or personal stationery, first share your ideas or point to a design on www.georginahill.com as a potential starting point by emailing info@georginahill.com
For example, one couple wanted: "Baby announcement cards, please. Lived in: Washington DC, Amsterdam, now London. We're Dutch – I'll send a photo of us. Keen on a touch of Dutch and English folklore tradition, and  for our first son Johannes to feature. Text and a baby photo on the inside page."
2. AGREE SCOPE + $$$: GH Illustrations helps fill in any gaps by email/phone and gives a quote. Very generally speaking, prices for picture designs start from S$190 (unframed, involving minor tweaks to an existing design) and range upwards for more detailed commissions requiring special personalised features or larger sizes.  For printed greeting cards, prices start from S$400 for 100 cards and vary according to the design requirements. Quotes also possible in GBP, EUR, CHF.
3. LET'S GET CREATIVE: Once you've given the green light, GH Illustrations creates and emails a first draft (usually within 10 days – if you have a special date in mind, shout!)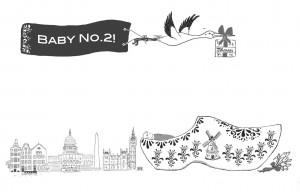 4. FINE-TUNING: With your feedback GH Illustrations tweaks the design into a final version. The more tweaks, the longer the clock ticks and the bigger the price tag grows. If your design involves printing as greeting cards, at this stage we finalise the print order (e.g. dimensions, delivery address, timing).
e.g. "On second thoughts, we'd rather have the Johannes reference more subtle – could he feature with us in some way as a family, perhaps cycling? I'll also send you the announcement text and baby photo for inside the card"
5. VOILA! Your design is born (and posted). You're smiling at your personalised picture and GH Illustrations is enjoying that warm fuzzy feeling of capturing a client's idea just right.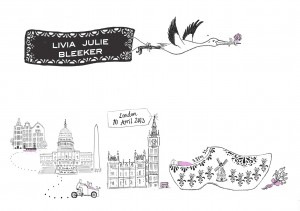 = One happy client/proud mummy: "Massive thanks again for another AMAZING birth announcement design! I love how you listen to all my ideas and then create something which is exactly what I wanted and pictured in your own unique and very thoughtful design!!! I hope there will be more reasons in future for me to contact you for another job :-)"
…………………………………………………………………………………………………………………………………………….
THE BASIC INGREDIENTS
My style: I tend to work digitally – meaning I draw by hand on a tablet using clever on-screen 'brushes'. The beauty being that you  get superb detail, colours and best of all full flexibility to make changes throughout the design process. However, for portraits of people I  switch to black fine tip and grey felt pens, with pencil strokes on paper – somehow that just works best.
Framing / Printing
(a) For frame-able prints, your design is digitally printed on quality ivory art paper size 21 x 15cm or A3 (larger A2/bespoke sizes also available on white paper), with any finishing touches added by hand. Signed and dated by the artist on the back. Card mount only or mount+frame options or canvas printing available at extra cost. Some bespoke framing samples:
(b) Greeting cards come in size A6 (=your average postcard size) on quality ivory 300gsm card with envelopes, either as folding cards or postcards, featuring GH Illustrations' logo on the back page. Minimum order is 100 cards. Price will increase if you wish to include text or colour printing inside. Allow extra time for printing.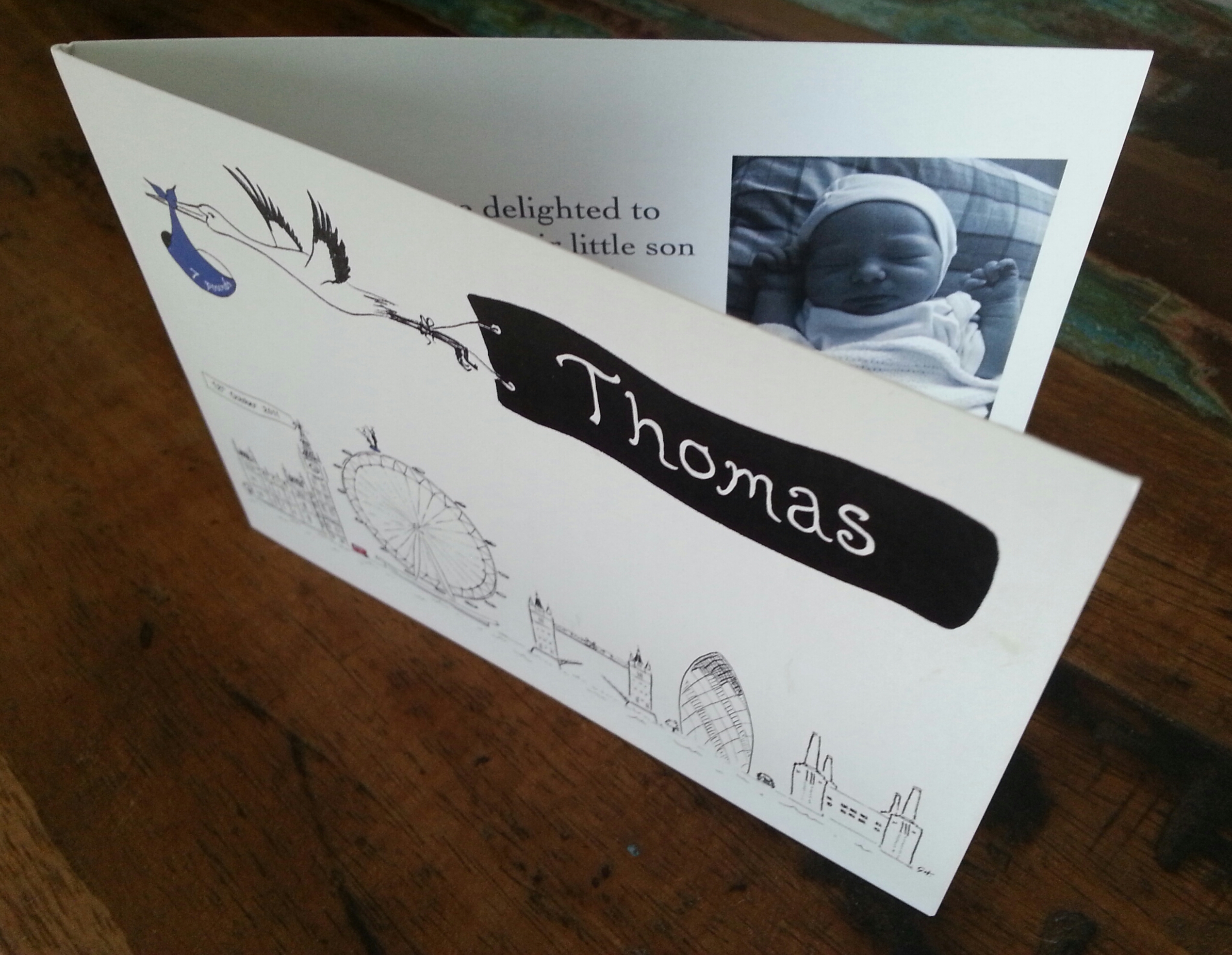 Size of frame-able designs on art paper is either (a) 27 x 18 cm, growing to 37 x 28 cm (approx A4) in a mount/frame; or (b) 40 x 20cm growing to size A3 in a frame. Larger sizes (60 x 30cm growing to 80 x 40cm in frame or bespoke) are also possible on white paper or canvas.
Colours viewed on screen may look slightly different when printed.
Postage and packaging not included in quote – pricing and despatch timing depend on your location; for Singapore choose from pick-up (in River Valley area) or personal delivery ($20); for Europe allow 10 working days (pictures sent in mount format only, no frame; cards dispatched from UK printer).
Timing: turnaround depends on my workload and how fast you're able to type your feedback. Best to allow 1 month (max) for the whole design recipe, plus a week for greeting card printing and 10 working days for overseas postage.
Bon appétit!